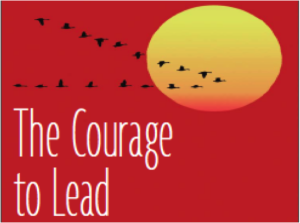 'Lead from where you stand.'
'Outside of our job titles and resumes, away from our to do lists and calendars, there is a place we have reserved for leadership. It is a place of potential, where we can go to see things differently, foresee positive change, and find the courage to lead.  Its a place we too often see from afar and struggle to get near.' D. Buwalda – Course Administrator
ICA Canada's The Courage to Lead study series brings people together to consider the meaning of leadership in their lives at home, in work, and in society. It approaches leadership, not as a skill-set to attain, but as a practice you can explore. It allows partipants the opportunity to share in ICA's fifty years of research and development while offering the space to share their our own leadership experiences.
Starting on Thursday, March 31st and continuing to Thursday, May 19th, from 6:00 – 9:00 p.m., the eight-week Leadership series follows the book "The Courage to Lead" by R. Brian Stanfield.  This non-traditional leadership program has an emphasis on personal growth and reflection and will be of interest to anyone seeking to develop themselves as leaders in all walks of life. It is about the foundational context for leadership. The study is not about leadership skills development. As such, the program requires reading (2 chapters per week) and exercise work that needs to be completed outside of class time. This program explores twelve leadership stances, any one of which, if adopted, has the potential to change your life and community.
The message is simple: if you relate authentically to life, to yourself, to society, and to the world, you can start the process of social change from where you are right now and be a leader as well.
Learning Goals
·       Enhancing self-awareness and cultivating personal growth as it relates to being a leader.
·       Deepening and broadening your understanding of leadership and what it takes to lead.
·       Integrating a comprehensive understanding of leadership into your life and work.
·       Learning how you can be effectively involved in change.
There will be an orientation session on Thursday, March 31st. At this session, the Courage to Lead textbook will be distributed to all participants. If you are interested in enrolling in this Thursday evening program, please register online here … or contact ica@icacan.org / 416 691 2316 x2247.
This course has been running successfully for over a decade. Here are some of the testimonials of those who attended:
·      "An excellent book for self-reflection, personal growth and a better understanding of leadership. I will recommend this course to anyone who is willing to be challenged. Thanks so much, it was so worthwhile. I have grown so much!"
·      "I have acquired a greater sense of social responsibility and the small and the big ways that people show courage – so I will look to ask myself how I can care in my community".
·      "I found myself eager to read the book and looking forward to Tuesday night. Still so much to learn. The class did not offer a "to do" list of what was a great leader but rather it was much more profound".
·      "A great opportunity to learn about yourself. It would benefit anyone open to self-reflection. It is about the courage to engage in life authentically and fully".