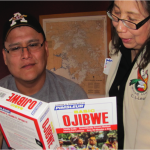 The Indigenous Language and Leadership Initiative – ILLI 
has grown from our CI Learn partnership of recent years and is focused on supporting First Nations in the Kingston area to co-create and co-discover little and big ways to reclaim indigenous languages.
We are committed to working with respect, using processes of listening and collaboration, with children, parents and elders in a comprehensive and a community-led approach. At present, we are seeking First Nations individuals to join our volunteer committee.