The Il Ngwesi Partnership on Girl and Women Empowerment
Anti-Female Genital Mutilation Project (Anti-FGM)
With the success of the HIV/AIDS awareness and prevention program, Il Ngwesi community again approached ICA Canada to help facilitate a new project aimed at educating the community and changing perceptions on harmful cultural practices of Female Genital Mutilation.
Female Genital Mutilation, also known as Genital Cutting is a procedure that "intentionally alters or injures the female genital organs for non-medical reasons" (WHO, 2017).  Over 200 million women and girls worldwide have undergone the procedure in Africa, East Asia and the Middle East, with 3 million girls in Africa at risk of undergoing the cut every year (WHO).  Recently in Canadian news, there were alarming reports of Canadian girls being taken overseas to undergo the procedure.
A team of ICA Canada staff and volunteers facilitated a participatory workshop that helped the community identify priority issues, and more so the harmful cultural practices including FGM and early childhood marriages that negatively impacted women and girls.  Female circumcision elevates a girl to womanhood and makes her ready for marriage. This meant a significant shift in communal thinking on the practices. With the Kenyan government banning the practice of FGM, community leaders were ready to work with community members and government leaders to end the practice.
The outcome of the meeting was a community consensus to attend to the welfare of women and girls.  All participants agreed to a future where women had more rights and were empowered, resulting in a healthier community.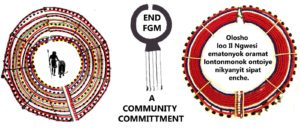 The community came up with a slogan in English, Swahili and Maa, "we will elevate our culture by committing ourselves to educate the entire community, make decisions together, create an alternative rite of passage and uphold the human rights of girls, women and Il Ngwesi."