History of ICA Canada's Partnership with the Il Ngwesi Maasai Community in Kenya
 Since the late 1980s, ICA Canada has embarked on partnerships with grassroots communities to build their capacity towards positive social change.  These social pioneers, as defined in our The Courage to Lead publication as "those that attempt to move society forward without confrontation or agitation, but through engaging people in a consensual understanding about what is necessary" (Stanfield, 2016) continue to inspire us.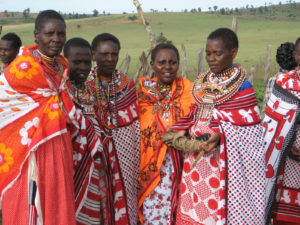 In February 2006, ICA Canada was introduced to a social pioneer – a pastoral Maasai community residing in the Il Ngwesi Group Ranch in Mukogodo Division, Laikipia District, and north of Mt. Kenya in Kenya.  Il Ngwesi means 'People of Wildlife'. The group ranch contains 7 villages with an estimated population of 6,000.
ICA Canada was part of an innovative HIV/AIDS education and awareness partnership initiated by the Il Ngwesi community that encouraged those most vulnerable to be tested, control the spread of the virus and care for the infected.
With the success of the HIV/AIDS prevention project through education and testing, the program has since been emulated by other pastoralist communities across Kenya and has become an example of a self-led community intervention to deal with local issues.